Hearing the success of our clients is why we love online marketing!  Our client, Kerrie from Bloom & Bush, has been kind enough to allow us share her success with our Search Engine Optimisation (SEO) service.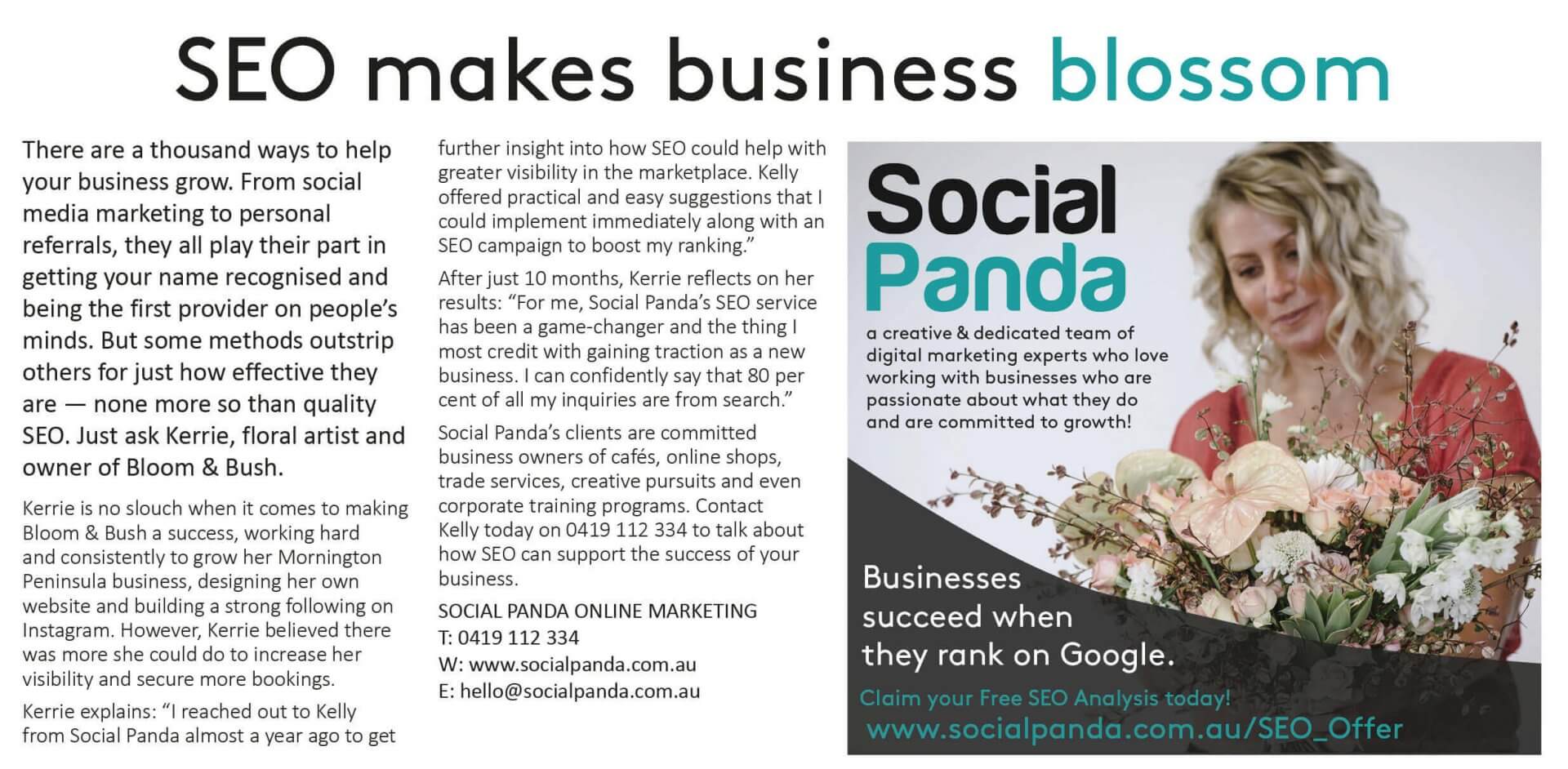 Source: Mornington Peninsula Magazine, October 2019, page 127
SEO Mornington Peninsula Success Story
Kerrie, the florist and business owner of Bloom & Bush, was working hard and consistently grow her new Mornington Peninsula business. She had built her own website and a strong following on Instagram. However, she believed there was more she could do to increase her bookings – and she was 100% correct in choosing SEO.
Kerrie explains:
I reached out to Kelly from Social Panda to get further insight into how SEO could help with greater visibility in the marketplace. Kelly offered practical and easy suggestions that I could implement immediately along with an SEO campaign to boost my ranking.
After just ten months of SEO work with Social Panda, Kerrie was already seeing awesome results:
Social Panda's SEO service has been a game-changer and the thing I most credit with gaining traction as a new business. I can confidently say that 80 per cent of all my inquiries are from search.
A few months later and Kerrie tells us that she is fully booked one year in advance!
We are happy to release these SEO results so you can see the progress of the rankings in Google for yourself:

Read more about this Mornington Peninsula SEO Campaign
Social Panda specialises in online marketing for small business and we have many success stories like these.  We are based on the Mornington Peninsula and work with local, national and international business owners to drive business success.
Claim Your Free SEO Analysis. Websites succeed when they rank well on Google. Chat to Kelly about how SEO can help your business or claim your free SEO review today.